Timken Belts Named AD Supplier of the Year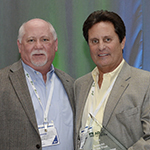 Feb 13, 2017
Timken Belts was recognized by Affiliated Distributors (AD) as supplier of the year for 2016. AD is North America's largest marketing/buying group for construction and industrial supplies.
Timken Belts is proud to partner with AD as their belt drive solution provider. Timken manufactures high-quality Carlisle brand industrial belts in the USA offering a comprehensive line of high performance products. Behind every belt is responsive customer service, an extraordinary engineering team, and an Iron Clad Guarantee.
Left to right: Jack Templin, President of AD; Dennis McCambridge, Vice President Sales & Marketing Timken Belts; Mike Nisenbaum, Director of Sales, Timken Belts; Bill Childers, AD EVP and Director.
The award was presented during AD's annual Winter Meeting in Orlando, FL. The Supplier of the Year is given to a company that is a premier marketing partner providing consistent support to AD members.
Receiving the award for Timken Belts was Dennis, McCambridge, Vice President Sales & Marketing and Mike Nisenbaum, Director of Sales. AD celebrates the power of partnerships. "As strong as we each are alone, together we are stronger. Together, we win."